Everything related to a Jewelry is a ritual for me
I love jewelry. They are my treasures, one of my sacred space where I feel the beauty of being a woman. It is such a pleasure to look for jewelry when I go to a new place, collect them and their stories, keep them all together and choose the one according to the moment. Every step is such a ritual.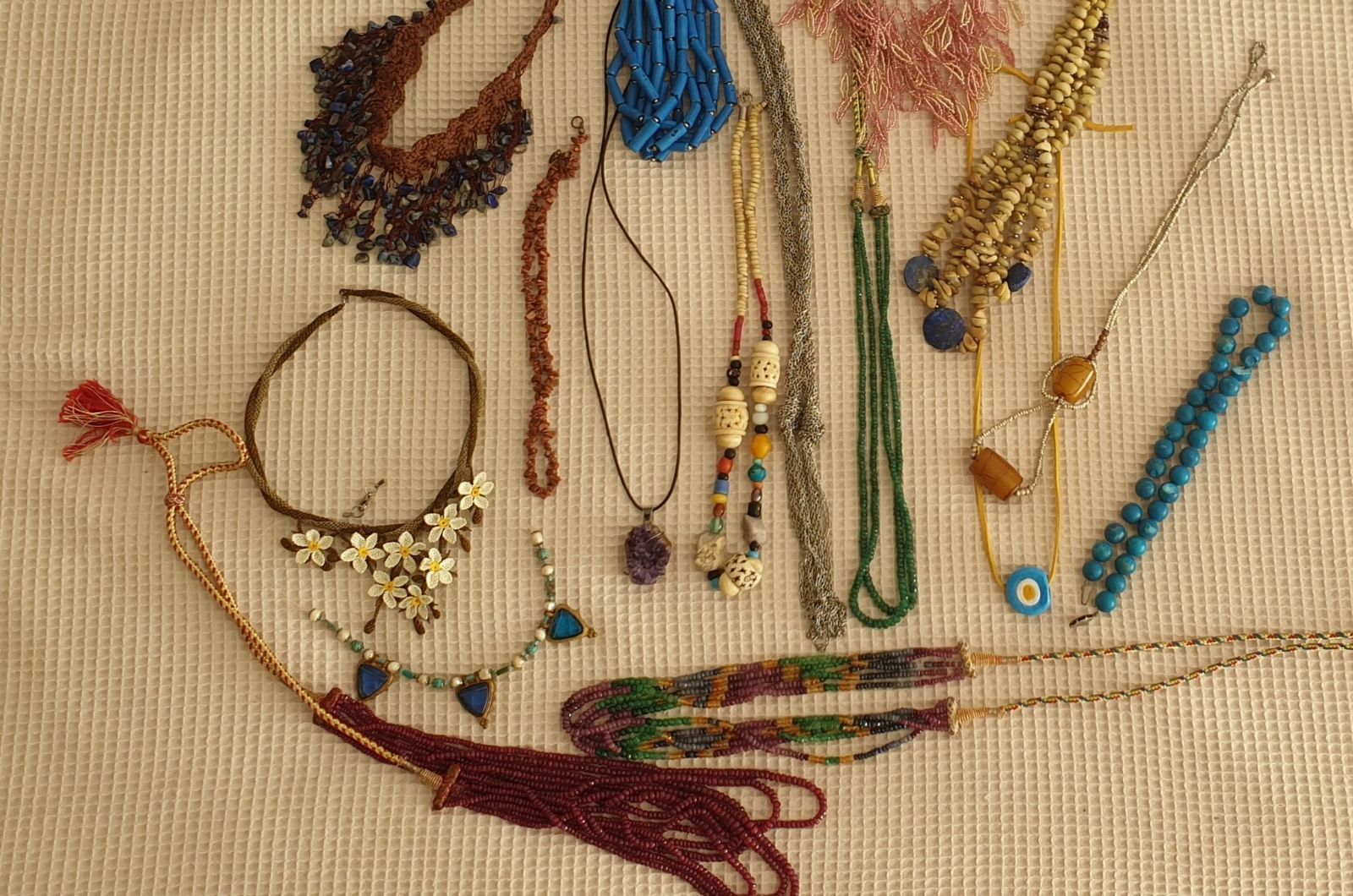 Evil Eye Jewelry Kit and the home-made ritual behind it
I love this product of evil eye jewelry kit, because of many reasons. Let me explain.
It is a product that I have created from my big love to evil eye beads. Inside a jewelry box, you have 14 chakra color circular beads, 10 triangular shape beads, and 3 'eye of the cow' beads as they call it in the village of Turkey, where they produce and also 2 colorful threads.
The family that still does the production of evil eye beads
I loved evil eye beads since I was little kid and look at the coincidence that life has sent me just near the beautiful village where they are still producing evil eye beads. In Turkey, there are 2 villages and very few workshops left. The family that still does the production is very dear to me. I feel them as my family, my bigger sister, and my brothers. We had a really beautiful connection when I was living there.
Evil eyes; ancient wisdom as protectors of bad energies
Evil eye beads are believed to protect you from the bad energies of others. It does not necessarily need to be an evil person, we all have these evil energies inside us and without our intention, we can cause harm to each other. Evil eye beads are beautiful protectors for that, such a compassionate and beautiful tradition, don't you think?
A box for a continuous ritual. A gift for the whole family.
This product idea flourished from our own ritual at the home, of mine and my little kid, Luna. We had these beads in a box, and whenever we feel like, we were creating our own jewelry.
Sometimes, when the kids feel fear at night, I am helping them to create their own amulets. So important for them to experience the power of their intention, and this product is making that intention touchable and reminding all the time when one sees it.
A video showing our ritual
Starting with slowing down and asking ourselves what we want to create, which colors and shapes.
Then preparing it slowly as an expression of self-care and an excuse to slow down.
After enjoying the accompany of the jewelry or the amulet, then cleaning the energy
Preparing it for the next use.
This evil eye jewelry kit always reminded me of beautiful Tibetan mandala rituals
Creating something beautiful and letting the awareness of this creation fill you up with beauty. Once done just letting it go, as a great reminder that everything is borning, again and again, every moment.
I hope you enjoy the video. Please help us share this evil eye jewelry kit with your loved ones.