There is an infinite number of vision boards. The vision board changes according to the person and also when the person does that. There is no right or wrong answer.
That is why I have created this blog post. In the first part, you will see vision board ideas, which are not inside any categories, just for your mind to wander around.
The second part is called vision board examples, more categorized such as for weight loss or for business.
Enjoy this blog post and let your intention be just to be inspired. At the time of your journey of creating yours, just remember the end result is unique to you. There is no right or wrong.
If you need more guidance about how to create a vision board, you can check it here.
Enjoy the journey of getting inspiration from 48 unique vision boards.
Get Our Vision Board Kit
Create an Empowering Vision Board Unique To You!
Vision board ideas for adults
#1. Finding your voice
I loved this one. It attracts me so much because of my personal journey. Phrases are guiding you than if you want to go deeper you see the images to be more inspired. The images are giving color energy more than the exact image. I enjoyed looking at this.
#2. Online vision board
This is a nice example of an online one. I am more kind of a traditional vision board person. Getting magazines, looking at them, cutting, pasting, and all.

I had my online boards, both in the background of my mobile and computer and also as a Pinterest board. Served well.
If you like the idea of an online, this example may inspire you.
#3. If you want It work for it
This is very empowering. Talking about the realities. The colors are very harmonious. If you want it, work for it, the message is almost shouting. It is very clear, that does not leave any space for excuses.
#4. Your life will never be the same
Absurdity, the colors, the pictures, the message get stuck in the head. It will never be the same, kind of an invitation to a new adventure. The only promise is this so time to let go of all the expectations and be brave.
#5. My goals for 2021 in pink
I would never think that I would create something similar to this one: just a picture and some words on it but I liked this. To the point, clear, emphasizing the priority.
#6. My time and energy are valuable
Listen its story from @itsjennaslaughter:
"Here's what I did for mine:
I've got affirmations in the middle like a path leading to the big picture. Around the big picture are my values/ideals. In green are affirmations from my Human Design (as a projector). Then on either side of the path kinda keeping me on course are strategies and creations. My goal for the year to be a lighthouse, to shine a light for others. My way to stay on track is to plug into love. When I operate inflow and co-creation with the universe, what I desire is drawn toward me like a….. vacuum"
#7. For teachers
This is so inspiring for me. It is a teacher-created this one for her classroom. So cool.
#8. In continuation: with words in bullet journal to a bigger one
You are seeing here an example of how it can be a continuing project for some time. A small 2-page spread in her bullet journal converted to a bigger vision board finally.
#9. With printed pictures from Pinterest
"Printed pictures from Pinterest that reflect what I love doing and where I want to invest much of my time in this year " @tabea.journal says.

#10. Word of the year: thrive!
"Last year my word was Fearless, this year it is Thrive!" says @cassandragiles. This is a nice idea if you have a clear theme in your mind. You can go around that theme.
#11. Clean look
"I decided to do an IG-feed style for 2021 because I liked the clean look of the squares. So I printed out some squares on sticker paper, cut them out, then grabbed the scissors again and went through some old magazines, cut out some things that inspired me, and glued them to the squares, and VOILA! I also included my one little word for 2021 on this page and wrote out my reasons for why I chose that word. This is something I'll definitely look back on throughout 2021 to see a visual representation of my goals and visions for 2021" @jillofallplans
#12. Hanging with lights
I like this one for creating your and continuing to create it. It seems super easy. Adding lights brought the magic effect.
#13. Hang on the wall
Where you put your vision board is important, so you can see and create a relationship with what you want to manifest. What if you use one of your walls as the background, and do your collage on the wall directly. It would also be a decorative spot.
#14. Vintage
This vintage board shows so much about the style of the person who creates it, making it easier at the time of connecting.
#15. Without magazines, with drawings
The ribbons added an interesting effect. Bird nests around are creating an attention point, serve as an altar. This is composed of hand written affirmations, no pictures.
#16. Monthly where I want to go
@themjournaler says that "Each month I like to make a sort of mood/vision board about want I to do and where I want to go."
#17. Goal+Inspiration page
A 2-page goal+inspiration page in a journal. I like the vision boards in the notebooks, especially if you are using that notebook all year long and always have it with you. Checking every day. Almost starting the day and finalizing it, as a ritual.
#18. Listing style
If you are looking for a more categorized one, maybe this list can help you: spirituality, health, career, home, business, wish list, bucket list, and family. Or you can create your list.
#19. On a black background
This black background makes all the messages very visible. They are almost speaking to you instantly. Do not you think?
#20. Framed
"I turned this board into my Vision/Mood board for 2021. I used old dashboards, journaling cards, and typed up a few things on Canva. I'll keep a picture of this in my planner as a reminder. I now get how mood boards can change your mood. Every time I look up, it makes me feel happy inside. The overall aesthetic gives me good vibes." says @thiswellplannedlife.
#21. Inside a notebook
Another example of inside the notebook.
#22. Without pictures, just words
A vision board does not need to be this or that way. The best is being guided with your heart. If you just want words and phrases in it, so go for it. If you want to add colors and different fonts, here we go.
#23. Doodling style
"My new planner has a vision board space that I've been doodling in for a few days!" says @brooksidedogmom. I like this idea of doodling for some days. Connecting with you for several days to see what is that your heart is whispering to you.
#24. On the corkboard
Vision boards build on cork boards are also very common around. Here you see an example of it. I like it, seems that the person has very clear what he wants to see in his life, and just some pictures enough to be a reminder of that. Simple and to-do point.
#25. Take in positivity
It seems like this artist, later on, converted her vision board to a cover even, if I understood it correctly. I think when you create it as a painting, you create another kind of relationship with that. It could help you to know that those would happen in reality more than to believe.
#26. Exercises that I want to
"This is a very helpful tool in my healing journey. I was afraid to do lower body exercises for years in fear of worsening my back. So I did a vision board with all the exercises I wanted to be able to do again.
I'm already adding in a couple of these exercises. I keep it in front of me in my office all day and when I workout. It's helping me become less afraid and to do the exercises I want to!" says @mindbodyfaithfitness
#27. I am stepping into the most successful decade of my life
"Next year I'm focusing on manifesting the best version of myself- internally & externally," says @natsnoteables. This example is reflecting that. It seems a very powerful one. Good luck with your journey.
#28. Intentional growth
"Grow…Green is for growth. This board reflected a theme of intentional growth. It is about setting the intention thru creativity….pull in color &textures!" says @visionboardexperience
#29. 21 things I'd love in 2021
Nice one. 21 Things I'd Love in 2021. Simple, to-do point. Almost a contract with yourself for self-care. This makes me feel at ease.
#30. Love what you do and do what you love
Another simple and beautiful one. Love what you do and do what you love sets the field, works as a big reminder of the year. The heart says and the hands create it. Eyes see during the year and voila, a year full of self-realization, connection, and self-love.
#31. Including all
I am more like a simple vision board lover. Many times I cut many images or words from magazines and at the time of creating the collage, I let myself to simplify and surrender. If you are an "include all" kind of person, this example can inspire you.
#32. Always believe that something wonderful is about to happen
The colors bring harmony. The messages subtly take their place in your consciousness. The images seem as they already existed. This is a vision board that makes me feel like all those wishes already got realized.
#33. Including graphs
I have never seen graphs on a vision board and after seeing this I said why not. For my next vision board, maybe I will consider to include some.
Vision board examples
#34. vision board about your future – 6 Months to 5 Years
This is a vision board for the future journey: starting for 6 months, than a year and then 5 years.
#35. Vision board categories
If you feel comfortable to think or work with categories, than this vision board can help you. Categories are: relationships, financial, home, spiritual, marriage, heath, entrepreneurial and career.
#36.Vision board for business
I like this one. It is like the goal based vision board whic would help the team to be on the same page. I could create for my business this year.
#37. Vision board for weight loss
If weight loss is your priority, so maybe you can create a vision board for that. Here is an inspiration.
#38. How to make a vision board for weight loss
"I did a little fitspiration board this morning. It took me about 30 minutes. Gave me a little time to reflect on what I have been doing and what I need to be doing to become successful. SMART GOALS…
Specific
Measurable
Attainable
Relevant
Time-Based" says @life_w__bc.
#39. Vision board for relationship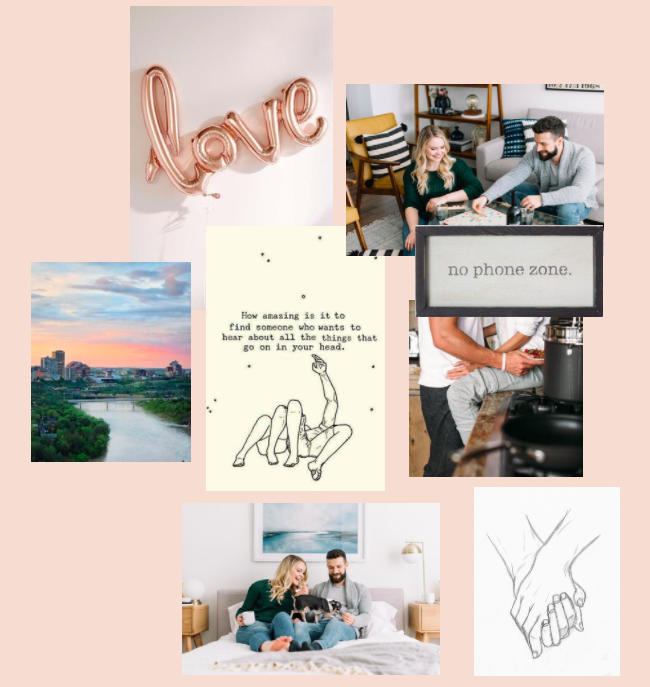 If you want to have a new relationship in your life or go deeper with your existing relationship, creating a vision board for a relationship can be something that you are looking for.
#40. Vision board new year
A quite organized vision board for the new year: affirmations, mantras, travel plan, habits-goals, resolutions, and priorities. It seems like everything is planned and ready to fly.
#41. Vision board for students
If you want to work with your students or your kids with the vision board, look at Evan's Vision Board for 2021.
#42. Goal setting vision board for students
This is from a blog post with the title: how to create vision boards with elementary students? You have a list to guide them, which could be helpful. The list includes friends, hobbies, family, my big dreams, my community, school, helping others, my dream job, and some affirmation examples. I like that.
#43. Vision board to manifest love
If you want to manifest love in your life a vision board can serve for that.
#44. Vision board with goals
You can convert your goals to a vision board like this example. She converted all those goals to phrases as they already happened and added some images to support this idea even more.
#45. Vision board new year
Creating a vision board for a new year is a very common one. Look at this one. Put all your dreams and goals for this year on that board and elevate your mood for a fresh start.
#46. Vision board house
If you are looking for a house, the best way could be creating a vision board, both for manifesting and starting to attract and also to see what your hearth wants.
#47. Vision board job
Here is an example of the vision board for the job of a student who will graduate soon.
#48. Vision board health & well being
What about creating a vision board for the theme of health and well being. Focusing a year just around that is what you want, this board can inspire you.
I guess we are all clear that there is no solution for all at the moment of creating a vision board. This is a good thing as it brings you more freedom. Relax, create a nice and calm space, and let your heart guide you in creating a vision board. If you need guidance, check our ultimate guide here.
Below is a Pinterest friendly photo…. so you can pin it to your Vision Board!